Writings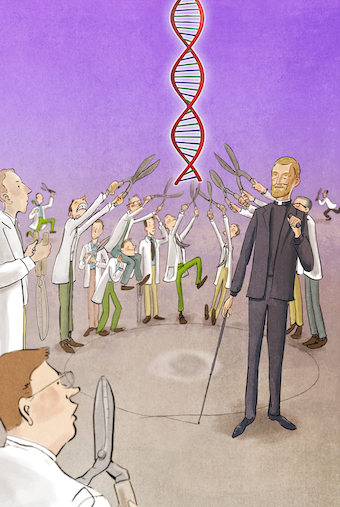 General Resources:
Father Tad and Dr. Jozef Zalot explain the Ethical Challenges of Gene Editing in their co-authored article from Ethics and Medics.
Father Tad does a Q & A on Gene Editing with reporter R.W. Dellinger of the Angelus News in Los Angeles.
Some of the ethical concerns surrounding gene editing are addressed in Father Tad's Making Sense of Bioethics columns entitled: Editing Our Own Genes and Pondering the Implications of Three-Parent Embryos and in this Relevant Radio interview about gene editing of human embryos. 
On the First Gene-Edited Human Babies in 2018:
In his Making Sense of Bioethics columns entitled, Gene-Edited Babies and the Runaway Train of IVF and The Foxes and the Henhouse, Father Tad discusses some of the serious ethical violations involved in the production of the first gene-edited human babies by a researcher in China 
On the First Instance in the U.S. of Human Embryo Editing in 2017:
The first time a human embryo was edited in the U.S. is discussed by Father Tad in his column: The Expendable Children.
Father Tad spoke with the Catholic News Agency about the event. See: First human embryos edited in the USA. Here's why it's problematic.
Father Tad  also spoke with the San Diego Union-Tribune. See: With embryo gene editing a reality, humanity enters a new era
An article by John Burger on the website Aleteia references Father Tad's comments. See: The promise and peril of new genetic engineering technology
An editorial on gene editing from the National Catholic Register with comments by Father Tad : Gene editing: unmoored science
An article from the Catholic News Service by Dennis Sadowski includes comments from Father Tad . See: Ethical questions surface as scientists advance gene-editing work