FT News Feed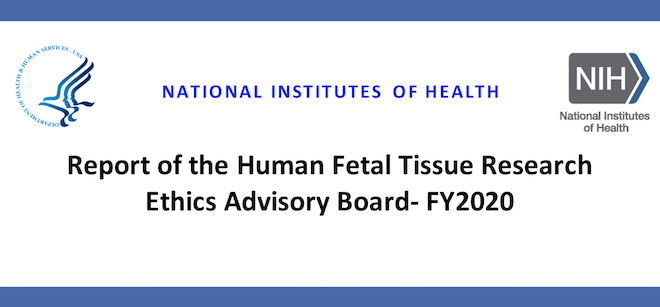 The Final Report of the NIH Human Fetal Tissue Research Ethics Advisory Board - FY2020 - was released today. Father Tad served as a member of the Advisory Board. See other press reports from the Catholic News Agency and CatholicPhilly. See also this followup analysis from the National Catholic Register, and Father Tad's comments and concerns about the need for consistency in ethical review in his article in Public Discourse.
The Board was established on February 20, 2020, by the Department of Health and Human Services (HHS) to advise, consult with, and make recommendations to, the Secretary of HHS (Secretary) regarding the ethics of research involving human fetal tissue (HFT) proposed in NIH grant and cooperative agreement applications and research and development (R&D) contract proposals.
The Board discussed a total of 14 research proposals (including both grants and contracts) at their July 31, 2020 meeting. In making its findings and recommendations, the Board considered the information contained in the grant applications and contract proposals. The Board assessed considerations as to whether the nature of the research involved is such that it is unethical to conduct or support the research.
The Board voted to recommend that the Secretary:
• withhold funds for thirteen of the research proposals.
• not withhold funds for one of the research proposals.
For further information about the Advisory Board, see
Father Tad Appointed to the National Institutes of Health Human Fetal Tissue Research Ethics Advisory Board